Tennis Player Back on Serve
Submit Your Testimonial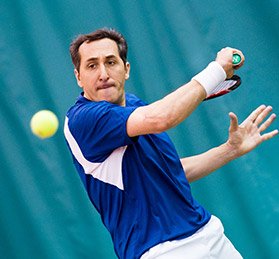 Peter, Museum Curator, Northern Virginia
Peter, 52, came to the CFOSM after unsuccessful surgery for a shoulder injury received in a skiing fall.
He had his labrum and rotator cuff repaired by another physician, and after several weeks of therapy, Peter didn't feel he was recovering as he should. He returned to the surgeon and was told the damage was so severe that it could not be repaired. The next question was whether Peter could ever return to playing tennis – a sport he's enjoyed since he was a teenager.
"That diagnosis was unacceptable. I wanted a second opinion and friends recommended CFOSM," Peter said. "I saw Dr. (Lonnie) Davis, who did surgery and told me he saw nothing that would prevent me from returning to skiing and tennis. After a round of therapy, I made a full recovery and went back to the activities I enjoy."
Admitting that 40 years of tennis takes its toll, knee pain sent Peter back to Dr. Davis about three years after his shoulder surgery. Wear-and-tear to the patella of his left knee required surgery. Like Dr. Davis's work on his shoulder, the knee procedure went well.
"I'm back to my pre-knee surgery level of fitness. Dr. Davis told me my recovery has been faster than some of his younger patients. Of course, I take pride in that!
"All of my experiences at CFOSM have been excellent. I have recommended it to several people."