Back in the Game – Martial Arts
Submit Your Testimonial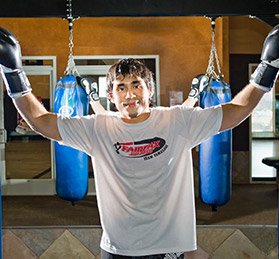 Hiroshi, Student, Vienna, VA
Martial arts training and competition is demanding. After months of intense training, Hiroshi, 23, developed pain in his right hip.
"I have been involved in competitive martial arts at the semi-pro level for 5 years, often pushing myself to the limits and beyond," Hiroshi said. "I've been injured before but was always able to work through it. This time the pain would not go away. My level of competitiveness began to slip and the pain started to affect my daily life – at home and at work."
" CFOSM came highly recommended." Hiroshi saw Dr. Lonnie Davis at CFOSM. An MRI found an abnormality in the hip and a torn labrum. "My surgery required shaving my femur to change its curve and fixing the labrum. I could not put weight on my leg for a month, and then I had three months of physical therapy," Hiroshi said.
For an active young guy, accustomed to training at the highest level of his sport, the month on crutches was difficult. Hiroshi credits the team at CFOSM for a quick recovery.
"I really don't know where to start in expressing my admiration for the care I received. My doctor was just the best. I am enjoying being back in martial arts competitions. I have a little pain in my other hip that we are watching. I certainly wouldn't hesitate to have surgery on it at CFOSM if that becomes necessary."