Football National Champion
Submit Your Testimonial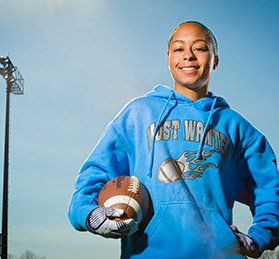 Stacie, Business & Sales Consultant, Falls Church, VA
After a trip to the national flag football championships in Orlando, Stacie's next big journey was surgery and rehab.
While rushing the quarterback – Stacie's special assignment on her team - she twisted her left knee, injuring her ACL and MCL. She saw an orthopedic surgeon, who did an MRI and recommended therapy, a temporary fix that allowed Stacie to be in a friend's wedding about a month after her injury.
Therapy strengthened her quad muscle, helped prevent muscle atrophy, and got Stacie,26, through the wedding. It wasn't enough to get her back on the football field.
"First of all, I'm a flag football player. A serious flag football player! I had to get back to my sport. So, I went to CFOSM. Dr. Lonnie Davis at CFOSM did my surgery and it went really, really well.
"I was so determined that I was going to walk out of the hospital after surgery, I brought an old pair of my father's crutches. When Dr. Davis saw them, he actually laughed and loaned me an up-to-date pair. But I walked out of the hospital," Stacie says proudly.
She returned to therapy, asking the staff to push her hard and not let her take any shortcuts in her rehabilitation so she could get back to football as soon as possible.
"Dr. Davis and the therapists were very good after my surgery. I thought I would need a knee brace or sleeve for support. They said no, that the brace would just be my security blanket and they wouldn't let me use one."
That turned out to be sound advice. The knee fully recovered and Stacie regained the agility she needed to "get in the quarterback's face." Her team returned to Orlando for the 2010 tournament and came home as National Champions of U.S. Flag Touch Football's 8-Woman Contact Football. And her co-ed flag football team finished third.
"I give Dr. Davis and my therapists a lot of the credit for getting me back on the field and to my pre-injury status. I've told a lot of my friends, teammates and even opposing players about them.