Serving Those Who Serve & Protect
Submit Your Testimonial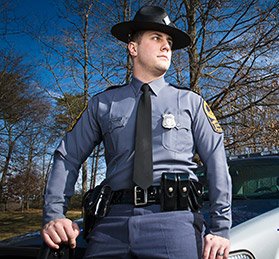 Bobby, State Police Officer, Loudoun County, VA
Responding to an emergency call, Bobby jumped from his cruiser and landing awkwardly on his left leg. His knee buckled, tearing the ACL and meniscus. He knew right away he had a serious injury.
Since his was an on-the-job injury, Bobby would go through Workers Compensation for treatment and rehabilitation. He first checked the surgeons on the Workers Comp list and then asked a fellow officer for a recommendation.
"Since this was the first time I'd ever had surgery, I really didn't know where to go or exactly what to expect," Bobby said. "Another officer told me Dr. (Ramesh) Chandra was the best, so I took his advice.
"I thought I'd just sail right through surgery and overall I did, but because of the severity of my injury, the pain was a little more than I expected. It took a little longer to get into therapy than I imagined."
Bobby actually started therapy about 10 days after surgery and continued it for about four months before going back to full, active duty. "Just like with Dr. Chandra and his staff, the therapists at CFOSM were great. Of course, I wanted to get back on the job as fast as I could. I worked hard and the therapists pushed me – but never beyond what I needed or could handle. I got back to desk or light duty in about two weeks."
Several people have asked Bobby if he would go back to CFOSM if he ever needed to do so. "Well, yes," he says.
"I'll be heading back to Dr. Chandra soon – to repair the meniscus in my other knee. This time I was investigating an accident and needed to get a better look at the crash scene. I jumped up on the Jersey Wall (concrete lane divider) and tore the meniscus"
This time around, Bobby hopes to be back to his preinjury level and on full duty in about eight weeks. And, he's quick to add, "there's one thing for sure, with Dr. Chandra I couldn't be in better hands."