Back On Duty & Cheering the Redskins
Submit Your Testimonial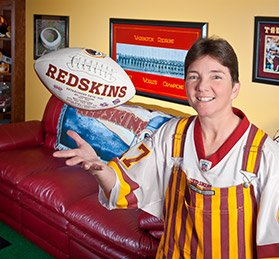 Lynn, State Police Officer, Northern Virginia
Lynn came to the CFOSM after being injured while on duty with the Virginia State Police. She and her fellow officer received a call to check on dogs locked in the cab of an 18-wheeler.
The officers' information indicated the dogs needed to be rescued. When Lynn climbed up the steps of the cab, she found the animals were in distress.
"Our next move was to locate the truck's owner so the animals could be freed. Climbing down the truck's steps, I slipped on the last one, fell, twisted my knee and tore the ACL and meniscus," Lynn said. "I was pretty sure that I would need surgery."
With an on-the-job injury like hers, Lynn would go through the Workers' Compensation claims process. She immediately started looking for surgeons and found Dr. Ramesh Chandra at CFOSM. He was on the Workers' Comp approved list, performed Lynn's surgery and she says she made the right choice.
"My surgery was done a couple of weeks after my injury and everything went extremely well. I was well prepared by Dr. Chandra and his staff, knew exactly what would happen, and it went just as they told me it would. After surgery, I began therapy at the Falls Church center and that too went well."
Of course, Lynn wanted to get back on duty has soon as possible and asked for a very aggressive therapy routine. She was able to return to the force on light duty in a couple of months, and was back to her pre-injury level in about 6 months. She was also anxious to return to working in her landscaping business and jumping up to cheer the Washington Redskins. To say Lynn is a big Redskins fan would be an under statement!
"I already have and will continue to recommend Dr. Chandra to anyone that needs surgery and therapy. A fellow officer was struck by a car but fortunately didn't need surgery. I told him he should look no further than CFOSM for therapy. He was very happy with the outcome."
"And let me say, everybody at CFOSM was just great – scheduling and rescheduling appointments, sending the paper work I needed for Workers Comp. They're all just great."