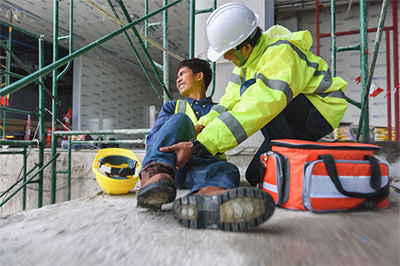 Recognizing when you have been injured on the job is extremely important so that you can take necessary actions towards both treating your injury and applying for worker's compensation in a timely manner.
Orthopedic injuries are the most common type of work-related injury. They can affect employees in many different types of work environments. Laborious jobs involving large machinery can require strenuous physical activity which can lead to muscle tears and strains. Office job employees often work on a computer in a sedentary environment which may cause lower back issues or carpal tunnel.
Depending on the severity of your injury, you may or may not feel that you should discuss it with your physician; however, all work-related injuries should be reported to your employer and evaluated by a qualified physician. Many injuries may seem minor but could become more severe if left untreated. Most minor orthopedic injuries will be treated at home with the RICE method – Rest, Ice, Compression, and Elevation, and will heal quickly with pain and symptoms subsiding after 48 hours.
More severe injuries require professional attention to ensure you are able to go back to work. You should immediately seek treatment for your work injury if you are experiencing the following:
Unbearable pain
Inability to perform your job
Persistent swelling and inflammation
Loss of mobility
Timely treatment is a benefit to you and your injury. Waiting too long or pushing through the pain of the injury can result in further damage which will prolong and complicate your recovery process and a possible delay or loss of benefits. If you are experiencing persistent pain or health issues due to a work injury, contact an orthopedicspecialist today to have your injury evaluated.
Dr. Ramesh Chandra has been practicing orthopedic surgery in the Washington DC Metropolitan area since 1984. The Center for Orthopedics and Sports Medicine is easily accessed from anywhere in the Washington DC metropolitan area, with offices located in Falls Church, Reston/Herndon, and Tysons Corner. Please call (703) 848-0800 or click here to request an appointment online for all appointments and inquiries.