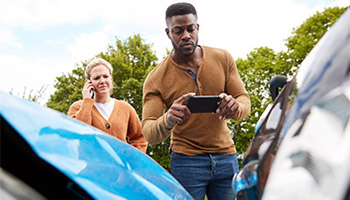 Being in a car accident can be a very traumatic experience. The types of injuries may range from mild (requiring only first aid) to severe (requiring immediate surgery). Often, the surge of adrenaline that occurs in the aftermath of such an event tends to mask the extent of your injury. You may feel fine despite suffering a serious injury. So, when should you see an orthopedic specialist after a car accident?
Some of the common injuries that necessitate seeing an orthopedic specialist include:
Fractured hip bone caused by the crash impact
Broken hand or fingers from trying to protect the face
Fractured clavicle or ribs from the seat restraint or airbag deployment
Herniated spinal discs
Whiplash injuries of the neck
Shoulder impingement due to nerve injury
Torn ligaments in the knee due to abnormal twisting of the leg during the accident
As mentioned, some of the orthopedic injuries caused by a motor vehicle accident may not be immediately apparent due to the pain-blocking hormones released by your body. You begin to notice painful symptoms only as the effects of these natural chemicals wear off. But by this time, degenerative changes may already have occurred resulting in conditions such as:
Traumatic arthritis: Wearing away of the cartilage triggered by physical injury
Spinal stenosis: Narrowing of the vertebral column causing back pain and stiffness
Sciatica: Impingement of the sciatic nerve in the lumbar region
Tendonitis: Inflammation of the tendons that connect muscle to bone
Hip bursitis: Irritation and inflammation of the fluid-filled sacs that act as shock absorbers around the hip joint
There is also the financial downside to consider. In certain US States, not seeing a doctor within a stipulated period after your car accident may mean you cannot file an insurance claim.
The best practice would be to get yourself checked as soon as possible after a car accident to make sure that you're okay, rather than face the significant consequences of not seeing an orthopedic specialist further down the road.
The Center for Orthopedics and Sports Medicine is easily accessed from anywhere in the Washington DC metropolitan area with offices located in Falls Church, Reston/Herndon and Tysons Corner. For all appointments and inquiries, please call 703 848-0800 or click here to request an appointment online.
Dr. Ramesh Chandra has been practicing Orthopaedic Surgery in the Washington DC Metropolitan area since 1984, with special interest in back and neck, sports medicine and arthroscopic surgery of the shoulder, knee, ankle, elbow, and wrist including major reconstructive surgery for all athletic injuries. Dr. Chandra is board certified in Orthopaedic Surgery and holds a subspecialty board certification in Orthopaedic Sports Medicine by the American Board of Orthopaedic Surgery. He attends national and international meetings on topics pertinent to his practice in order to present cases and keep up with the latest developments. He has lectured on subjects related to knee and shoulder reconstruction and arthroscopic surgery at national seminars. Dr. Chandra is an avid skier and a tennis enthusiast. Also, he holds a private pilot license with instrument rating, and enjoys flying as a recreation.