Here are the top 5 treatments for back pain: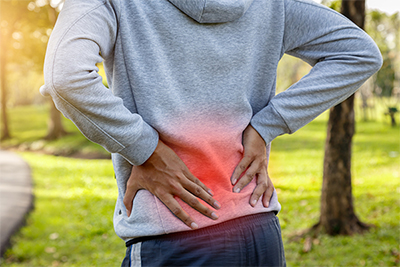 Acute back pain generally gets better in a few days with rest and home treatment. However, lying in bed for more than a day or two may make your backpain symptoms worse. You must try to keep moving with light activity as tolerated. If your pain persists or gets worse after a few days, you may need to seek treatment from a spine specialist.
Over-the-counter Pain Medications: Nonsteroidal anti-inflammatories (NSAIDs) such as ibuprofen or naproxen sodium can help reduce back pain by blocking the effects of certain enzymes that are responsible for causing pain and swelling in the area of injury.
Muscle Relaxants: A back injury can sometimes trigger painful muscle spasms. If acute back pain does not get better with OTC pain medication, muscle relaxants may be prescribed as the next line of treatment.
Oral Steroids: For moderate to severe back pain that does not respond to OTC medication or muscle relaxants, you may be prescribed oral steroids such as methylprednisolone and prednisone. While these medications are not usually prescribed for pain, they may be occasionally recommended to treat acute neck and low back pain due to inflammation. Oral steroids are generally prescribed for short bursts of therapy.
Physical Therapy: As acute back pain symptoms get better, physical therapy exercises can help strengthen the muscles that surround and support the spine. The physicians of CFOSM work closely with the physical therapy department to tailor treatment protocols to each patient's specific goals.
Back Surgery: In case the nonsurgical treatments described above fail to alleviate your symptoms or you have unrelenting back pain with radiation of pain down the leg or arm; back surgery may to required. Visit the specialists at CFOSM for an in- depth evaluation and treatment recommendation.

Dr. Ramesh Chandra has been practicing orthopedic surgery in the Washington DC Metropolitan area since 1984. The Center for Orthopedics and Sports Medicine is easily accessed from anywhere in the Washington DC metropolitan area with offices located in Falls Church, Reston/Herndon and Tysons Corner. For all appointments and inquiries, please call 703 848-0800 or click here to request an appointment online.