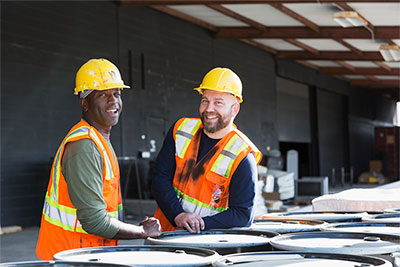 Injuries at work are a lot more common than people think. According to the National Safety Council, every 7 seconds a worker is injured while on the job. The good news is many work-related injuries are preventable. Here are some tips to avoid injury at work.
Stay focused on the task at hand: Allowing yourself to be distracted at a critical time when operating heavy machinery or tools can lead to a serious accident.
Avoid taking shortcuts: Not following the standard procedure or cutting corners to complete the work quickly exposes a person to unnecessary risks.
Don't drink while on the job: It has been estimated that 40% of fatalities in the industrial workplace are related to alcohol and drug use. These substances slow down reaction time and make a worker clumsy.
Don't be overconfident: When a worker feels overconfident and incapable of making a mistake, that is when they are likely to get careless and get injured. This seems to be more of a problem with young workers.
Use protective equipment: Personal protective equipment (PPE) such hard hats, googles, face protection, gloves, and masks should be used depending on the nature of the work. They will help reduce or prevent risk of serious injury.
Always follow safety rules and regulations: Every business or workplace has unique safety concerns and the safety rules are set in place precisely to prevent accidents and avoid injury while working.
Get regular health check-ups: Some workplace injuries may be caused by the physical inability of workers to perform certain tasks. Screening of job applicants with pre-placement physicals will ensure that candidates are placed in the proper positions that match their physical capabilities.
Dr. Ramesh Chandra has been practicing orthopedic surgery in the Washington DC Metropolitan area since 1984. The Center for Orthopedics and Sports Medicine is easily accessed from anywhere in the Washington DC metropolitan area with offices located in Falls Church, Reston/Herndon and Tysons Corner. For all appointments and inquiries, please call 703 848-0800 or click here to request an appointment online.