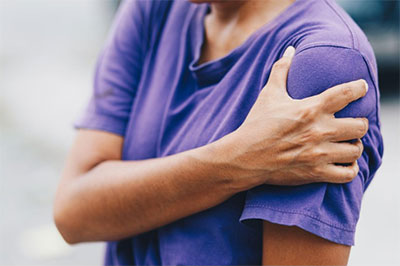 Frozen Shoulder, also called adhesive capsulitis, is a condition where the shoulder tissue becomes thick and stiff, causing pain and restricting movement. There are 3 stages of frozen shoulder – the freezing stage, the frozen stage, and the thawing stage. During the freezing stage, symptoms gradually appear and worsen as the shoulder loses mobility. The frozen stage is marked by pain subsiding yet the shoulder is still restricted from movement. During the thawing stage, the shoulder slowly begins to heal and regain function.
Throughout the thawing stage, physicians aim to treat frozen shoulder with the goal of decreasing pain and increasing mobility. Some commonly prescribed treatments include anti-inflammatory medications, steroid injections, anesthesia, and physical therapy.
In addition to these treatments, patients can help accelerate the thawing process and promote healing through at-home methods.
Here are some tips and tricks that can help thaw frozen shoulder:
Ice/heat treatment
At-home exercises:

Doorway stretch: standing in a doorway, place your hands on the top of the doorframe and walk through the door as far as possible
Broomstick flexion: grabbing a broom with both hands, raise it as high above your head as possible then lower it back down
Broomstick abduction: grabbing a broom with both hands, raise one arm at your side as high as possible and then repeat for the other arm

Gentle massaging
Over-the-counter pain medications (ibuprofen or naproxen)
Any at-home exercises should first be discussed and approved by your doctor or physical therapist to ensure you are performing them safely without worsening your injury.
There are many ways to treat frozen shoulder but the best methodology of treatment is utilizing any prescribed treatments from your physician while also implementing at-home remedies to further encourage thawing.
If you are suffering from frozen shoulder, schedule a consultation with Dr. Chandra today to discover your best options for treatment.
Dr. Ramesh Chandra has been practicing orthopedic surgery in the Washington DC Metropolitan area since 1984. The Center for Orthopedics and Sports Medicine is easily accessed from anywhere in the Washington DC metropolitan area, with offices located in Falls Church, Reston/Herndon, and Tysons Corner.