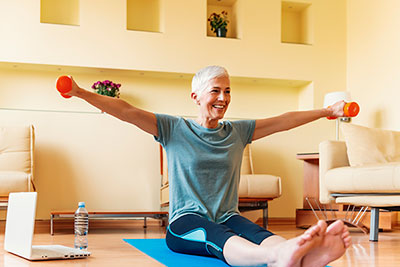 The US Centers for Disease Control and Prevention and the American College of Surgeons has recommended that non-emergency planned surgical procedures be postponed to help contain the rapid spread of the COVID-19 virus and for patient safety. If your surgery is postponed, here are tips that can help in the meantime to reduce pain, preserve function, and get in the best possible shape for the surgery.
Stay Active: Perform physical therapy exercises as recommended by your surgeon. The goal when preparing for surgery is to get the muscles surrounding the joint stronger so you recover faster after the surgery.
Stop Smoking: We recommend you quit smoking because smoking increases risk of surgical complications and slows down the healing process. Quitting smoking 6 weeks ahead of surgery will improve lung function, but even stopping smoking 2 days before your procedure can noticeably speed up your healing after surgery.
Eat Healthy: Eat a well-balanced diet with lots of fiber including fruits and vegetables. This ensures the body has access to all essential nutrients to repair damaged tissue and there are minimal problems with constipation which can occur following surgery.
Lose Excess Weight: If you are to undergo a joint replacement surgery for the knee or hip, losing even a little bit of weight will greatly reduce the amount of stress on the joint resulting in improved function and a long lasting implant.
Prepare your home: You may need to re-arrange furniture to prevent tripping hazards when moving around your house with a walker or an assistive device. Also keep essential household items in easy to reach places.
At the Center for Orthopaedics and Sports Medicine, we offer Virtual Telehealth Physical Therapy Services specially tailored to suit each patient's specific goals that you can access from the comfort of home. We understand that patients may be in pain and encourage them to go slow, performing easy exercises at first and progressively transitioning to more difficult exercises so they are in an optimized physical condition on the day of surgery
Dr.Ramesh Chandra has been practicing orthopedic surgery in the Washington DC Metropolitan area since 1984. The Center for Orthopedics and Sports Medicine is easily accessed from anywhere in the Washington DC metropolitan area with offices located in Falls Church, Reston/Herndon and Tysons Corner. For all appointments and inquiries, please call 703 848-0800 or click here to request an appointment online.