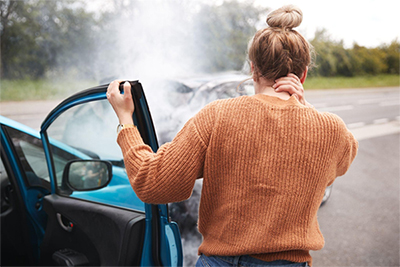 Did you know that over 6 million automobile accidents occur in the US every year? Oftentimes, individuals who are injured during an accident are taken to the emergency room. If their injuries appear less serious they may only schedule an appointment with their primary care physician. However, the search for medical treatment should not stop there.
Orthopedic injuries are extremely common in automobile accidents and should be further examined by an orthopedic doctor. Orthopedic physicians are specially trained to identify injuries commonly associated with an automobile accident. Some of the most common orthopedic injuries resulting from an accident are breaks and fractures, back injuries, and neck injuries.
It is not always evident at first when you have been injured, as pain may be delayed. For example, a fracture may first appear as bruising but over the next couple of days, the pain will develop significantly and swelling will worsen. If your injury goes untreated, even for a number of hours, it can worsen and result in longer recovery periods. Thus seeking medical attention as soon as possible is crucial to avoid any further complications and return to health quickly.
Not only is it vital for your health to seek medical attention following an accident, but it is also important for legal documentation. Documenting and diagnosing an injury sustained in a car accident due to another person's negligence is essential when seeking legal remedy.
If you or a loved one have been injured in an automobile accident, contact Dr. Ramesh Chandra at Center for Orthopaedics and Sports Medicine for a consultation today!
Dr. Ramesh Chandra has been practicing orthopaedic surgery in the Washington DC Metropolitan area since 1984. The Center for Orthopaedics and Sports Medicine is easily accessed from anywhere in the Washington DC metropolitan area, with offices located in Falls Church, Reston/Herndon, and Tysons Corner.