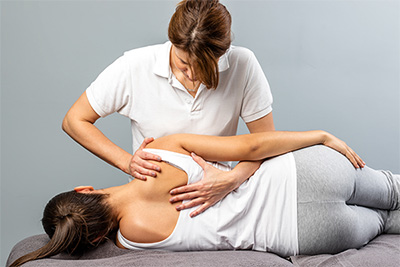 Back pain is the leading cause of disability worldwide. If you have experienced back pain, you know how consuming and debilitating the sensation can be. Most people who experience mild back pain recover quickly, however recurrence is common, and for a small percentage of individuals, the condition is chronic and disabling. Some conditions are treated with surgical operations. The majority will respond to preventative and non-surgical measures. Non-surgical solutions are best to be discussed with your doctor. Always listen to your physician's specific advice, but these tips can help keep back pain at bay and keep you off the operating table.
Physical Therapy. Physical therapy specifically targets the problem area(s) of your back. Physical therapy helps conditions like bulging/ herniated discs or sciatica pain because it works to relieve compression or pressure in the area.
Injections. Epidural injections are used to treat pain that starts in the spine and radiates to an arm or down the leg. Arm or leg pain often occurs when a nerve is inflamed or compressed. Spinal injections are performed under x-ray guidance, called fluoroscopy. This confirms the correct placement of the medication.
Diet/Weight Loss. Eating a low inflammatory diet and losing weight can help aid in the healing process. Junk food that is high in sugar or fat can contribute to the development of inflammation in your spine, leading to pain or compression in the area. Eliminating junk food from your diet not only relieving symptoms from inflammation and losing some excess weight.
Spinal Manipulation. If your back pain is the result of an alignment issue, spinal manipulation may be able to help you realign your spine and avoid unnecessary surgery. For certain injuries, spinal manipulation would not be the best option. Discuss this with your doctor.
If you have had back pain that has continued for more than two weeks, it may be time to schedule an appointment with your physician. He or she may perform physical or order neurological and imaging tests to determine the cause of your pain and find the treatment option that is best for you. Over-the-counter pain medication can help reduce pain and allow you to participate in activities that can help your healing, such as exercise and walk, while you await your appointment with your doctor.
If you are experiencing back or neck pain, the physicians at the Center for Orthopedics and Sports Medicine will take a thorough medical history, perform a physical exam, and order diagnostic tests such as X-rays or an MRI scan to identify the source of your pain.
Dr. Ramesh Chandra has been practicing orthopedic surgery in the Washington DC Metropolitan area since 1984. The Center for Orthopedics and Sports Medicine is easily accessed from anywhere in the Washington DC metropolitan area with offices located in Falls Church, Reston/Herndon and Tysons Corner. For all appointments and inquiries, please call 703 848-0800 or click here to request an appointment online.