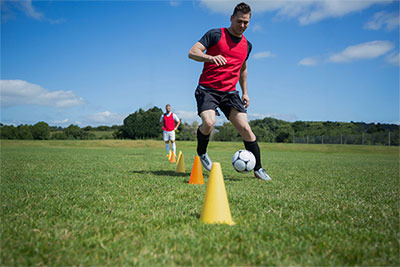 An ACL rupture is a significant injury and after ACL surgery you will need to commit yourself to a rehabilitation program to maximize the surgical outcome. The goal of rehab is to ensure your knee is functionally stable to do all the activities that you normally do.
If you are an athlete, it may take up to 6 months of full rehab to return to sports. Your physical therapist will guide you through this rehab process using established protocols as well as considering your specific needs and your response to treatment.
Most patients are sent home from the hospital after ACL surgery with crutches and a leg brace that keeps the knee straight. Over the first 1-2 weeks, you may experience some pain and swelling as well as beginning some gentle exercises to restore joint motion and muscle function. You may be able to stop using crutches and return to school or a desk job within the first 2 weeks.
After 2 weeks, most of the pain related to the surgery will go away and physical therapy will be more aggressive in restoring joint mobility. It is particularly important at this stage to try and get full knee extension. After about 6 weeks, strengthening exercises will be included to improve quadriceps, hamstring, calf, and hip strength.
Between 6-12 weeks the focus will be on improving muscle strength, coordination, and balance. It is critical to progressively increase the level of activity to avoid risk of reinjury. At the 3-month mark you may be cleared to begin running. Start slow and be mindful of how the knee responds to the new activity. The presence of swelling and pain in the knee a day after running is an indication that you have overexerted the knee and you need to slow down.
Between 3-6 months, you should feel like your knee strength and function is improving every week. The focus on this time will be functional exercises, plyometric exercises, and sportsspecific exercises to gradually return to pre-injury activity. Most patients can expect to return to the demands of their sports and activities between 6-9 months after surgery.
Dr. Ramesh Chandra has been practicing orthopedic surgery in the Washington DC Metropolitan area since 1984. The Center for Orthopedics and Sports Medicine is easily accessed from anywhere in the Washington DC metropolitan area with offices located in Falls Church, Reston/Herndon and Tysons Corner. For all appointments and inquiries, please call 703 848-0800 or click here to request an appointment online.