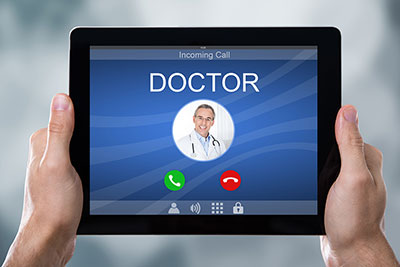 Telemedicine is changing the way people get face-to-face time with their doctors. It allows you to visit with your Orthopaedic surgeon without having to step outside your home. Of course, you need to be physically present at your doctor's office to receive treatment such as injections , post op care or urgent orthopedic care, but at other times a telemedicine visit may be more convenient. Here are 6 benefits of telemedicine:
Management of Chronic Conditions: Patients with back pain or other chronic degenerative joint conditions can discuss symptoms with the doctor via telemedicine and conservative treatments or activity modifications can be recommended to help alleviate symptoms.
Prehabilitation: Patients scheduled to undergo elective surgery such as joint replacement, can be given prehabilitation exercises through virtual to alleviate painful symptoms, improve surgical outcomes and speed up their recovery.
Rehabilitation: Limited Physical therapy rehabilitation exercises can be demonstrated through telemedicine.
Follow-up Visits: Your doctor can assess how you are coming along after the initial evaluation and treatment for your orthopedic complaint.
Review of Imaging Studies: X-ray, CT, MRI and other diagnostic studies can be viewed and discussed online.
Get Medication Refills if Necessary: Your doctor can discuss your response to prescribed medication and your medication regimen can be altered or refilled as required.
Ensuring your health and safety has always been our top priority at Center for Orthopaedics and Sports Medicine. As part of our commitment to meeting your orthopedic care needs during the COVID-19 pandemic, we are now offering TeleMedicine visits to our New AND Established patients. For more information, call our office during normal business hours at (703) 848-0801.
Dr.Ramesh Chandra has been practicing orthopedic surgery in the Washington DC Metropolitan area since 1984. The Center for Orthopedics and Sports Medicine is easily accessed from anywhere in the Washington DC metropolitan area with offices located in Falls Church, Reston/Herndon and Tysons Corner. For all appointments and inquiries, please call 703 848-0800 or click here to request an appointment online.